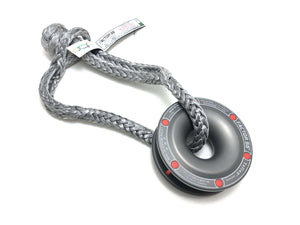 Factor 55 Spilblökk með Spottalás
55.000 kr

55.000 kr
með vsk.
---
---
PRODUCT DESCRIPTION
RRP + Standard Duty Soft Shackle Combo
Now you can own the world's first winch friction pulley with a patented rope retention feature and our Standard Duty 10″ Soft Shackle. Bundle and save.
MADE IN USA
FACTOR 55 ROPE RETENTION PULLEY
The world's first winch friction pulley with patented rope retention feature. A lightweight alternative to traditional heavy snatch blocks/pulleys. The RRP can be used to increase pulling power or redirect the winch line. The RRP is for use with SYNTHETIC ROPE ONLY and is to be used in conjunction with a soft shackle. During momentary slack, patented rope retention rubber fingers prevent synthetic winch rope from escaping the pulley groove preventing premature rope failure. The oversized hole radius provides a smooth rubbing surface and keeps the legs of the soft shackle from rubbing on the edges of the RRP. The critical friction surface has also been TEFLON treated to increase slickness and heat dissipation.
For Synthetic Rope Diameters 5/16 to 1/2 inch (8-12mm)
Billet machined 6000 series aluminum
Mil-A-8625 F Hard Anodized Surface
WLL 22,000 pounds (97.9 KN)
Weight: 21 ounces (595 g)
Made In The USA
---
Þú gætir líka haft áhuga á